Ultimate Vol-Bivouac
Large & efficient gear storage options
Excellent comfort & support
Only 1.9kg for the MS size
Durable enough for many seasons of use
Available in 4 sizes
The BV1 is designed for the toughest vol-bivouac adventures. Our R&D team focused on a balance of durability, comfort, and lightness — the result is an efficient and highly practical tool for vol-bivouac missions. Everything about this harness, from the materials to the harness chassis and comfort level, is designed for intensive use in the mountains. This is the harness of choice for the world's most hardcore vol-biv pilots, including Antoine Girard, who has flown the BV1 deep into the Himalaya and to a world altitude record of 8400m over Broad Peak.
A large inflatable back protector, ample storage to take onboard all the kit needed for long trips, and other innovative features such as a solar-panel mounting anchors set the BV1 apart. It's "everything you need, nothing you don't" with practical features such as a fully load-bearing anti-forget harness system.
 Back Protector
An advantage of inflatable back protection is that it can be inflated with your gear in place. The result is that your equipment is stored securely and will not move around in flight, and the harness is very comfortable even with full kit*.
 Massive Storage
The inflatable protection pocket is easy to load and unload thanks to its large horizontal access point. It easily stores heavy and cumbersome equipment such as your stove, tent or hiking poles (which you hopefully won't need to use, much). A large dual zip rear compartment is easily loaded and unloaded, and is locked shut with magnets. The hydration pouch compartment is located here, with tube access over the shoulder. The pocket under the cockpit is ideal for external battery storage. Upper Pod Pocket: Easily accessible, it's ideal for cameras and other in-flight needs. Left side storage: Large enough to accept a camera pole or other accessories.
 Solar-Ready
Solar panel attachment anchors are located on the top of the pod, allowing you to install the solar panels post-take-off to charge your external power source.
 Structured for Comfort
The BV1's support structure is reinforced with nitinol rods in the back, and carbon rods under the seat, for a relaxed recline and quick & easy transition to landing position for technical top landings. Its wide leg straps are integrated with a comfortable and secure feeling bucket seat, and both leg straps open for easy gear-up.
*Harness back protector meets EN certification requirements only when fully inflated.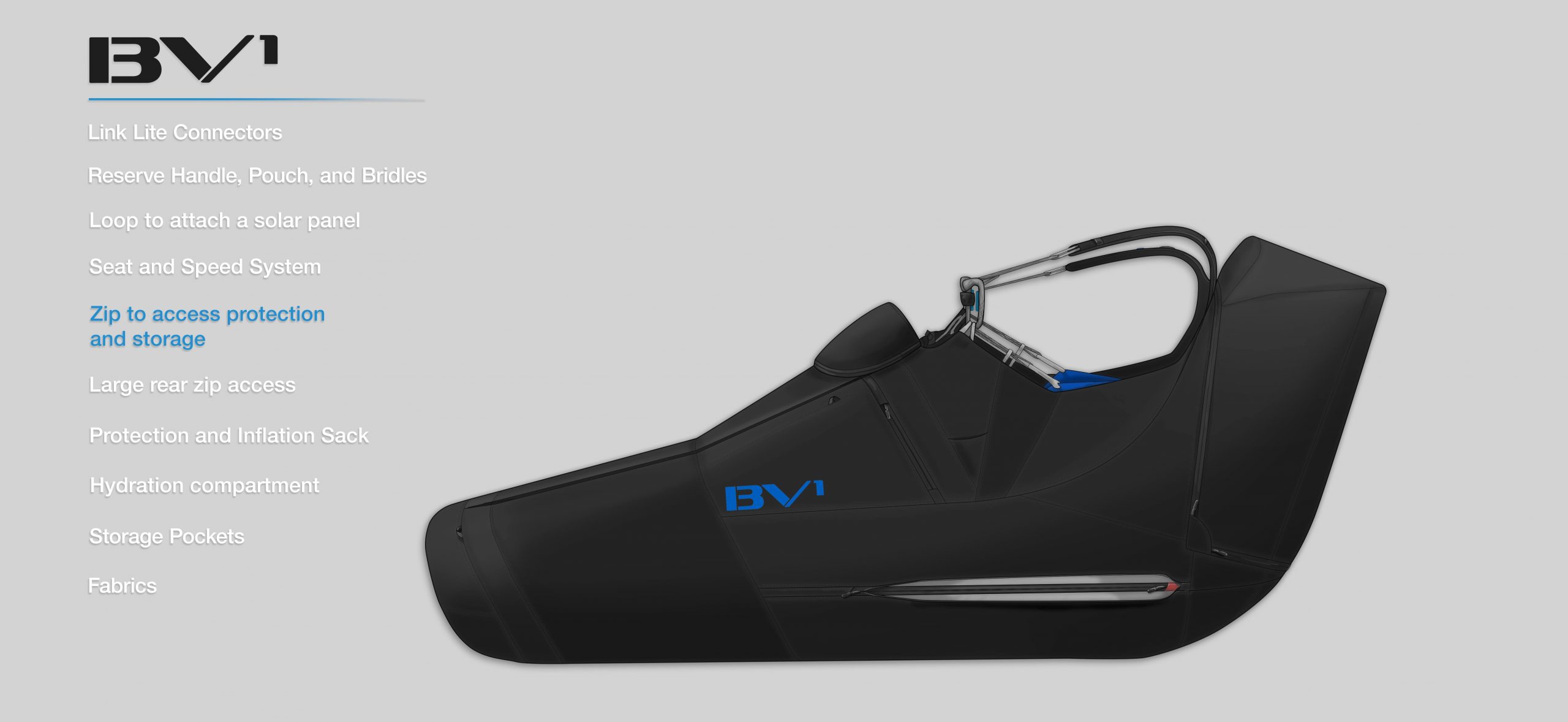 COLOUR OPTIONS