The Vista has become a legend in its own time… Now in its 5th generation, it is lighter, cleaner and with all the latest materials & construction technologies incorporated.
Back in 2014, when Vista III was first introduced, it was a groundbreaking wing. An EN B certified true 3 liner (top to bottom), shark nose wing that performs and feels like a well tuned racing car which excels in strong conditions ! It has set a standard for many other competitor models which came after..
The new Vista V is based on the platform of Vista IV and improved on several key points:
Over 700 grams lighter in the M size, but uncompromising materials / durability. This result in better inflation and in-flight characteristics.
Re-Optimised 3D leading edge cut smartly incorporated into the colour design – resulting in a cleaner leading edge, improved top surface layout and tension for better performance.
Risers- Perfect 12 [mm] webbing risers with incredible attention to details. They are super-lightweight at less than 99 gr! Incorporating a unique A5, C5 (Split A, C) line connection method with no Karabiners! Making it cleaner, safer, lighter – smart and elegant. The risers also feature specifically designed ball bearing pulleys allowing for the smoothest speed system operation possible, and now the same brake pulleys are mounted on a custom elasticated tubular webbing.
The Vista V now also sports the Butthole 2, which automatically clears sand and debris from the wingtip trailing edges.
Vista V flight characteristics can be described as a very solid canopy which reassures the pilot with its consistency and pitch damping characteristics.
The wing transmits an incredible reassuring feeling of safety to the pilot, building confidence, for better piloting.
Vista V will be the perfect companion for any pilot from a talented school student to cross country pilot looking for a good performing, safe and easy to manage wing.
The Vista V is also available with motor risers.
The lightweight canopy makes a huge difference for nil wind forward launches. Its pitch stability turns it into a very pleasant paramotor wing as it cuts through the air almost unaffected by small turbulence. Coupled with its performance, it is a highly efficient paramotor wing perfect for electric engines or low power motors.
The paramotor risers are equipped with trimmers. The flight characteristics remains within the certification while the trimmers are in the closed position. The full test procedures have however been completed in house on these risers with the trimmers in the open position. You can order the Trim Risers (Product Code: 78800P) from your dealer.
Technical Data
| V-min [km/h] | 21 |
| --- | --- |
| V-trim [km/h] | 39 |
| V-max [km/h] | 51+ |
| Min Sink [m/s] at optimal wing loading | 0.95 |
Construction
Material
Diameter [mm]
Strength [kg]
Top, Mid
Superaramide
1.2
120
Bottom A, B, C
Superaramide
1.9
320
Bottom St
Superaramide
1.5
150
Brake top, St top
Dyneema
1.1
95
Brake bottom
Polyester
2.0
85
| | |
| --- | --- |
| Sail Cloth – Top | 42 gr/m2 "Zero Porosity" Ripstop Nylon |
| Sail Cloth – Bottom | 27gr Skytex |
| Rib Cloth | 27gr Skytex (Hard) |
| Rib Reinforcement | FLEXON® batten system |
| Warranty | 3 years / 250 Hours |
The glider is made from tear resistant Ripstop Nylon cloth, which is P.U. coated to zero porosity and then siliconized to give the fabric high resistance to the elements. Different cloth is used for the top, bottom and ribs due to their different functions.
The lines are made of superaramid covered with a polyester sheath for protection against UV, wear and abrasion. The bottom section of the brake lines is made of Polyester because of its better mechanical properties. The Karabiners/rectangular loops that attach the lines to the risers are made of stainless steel.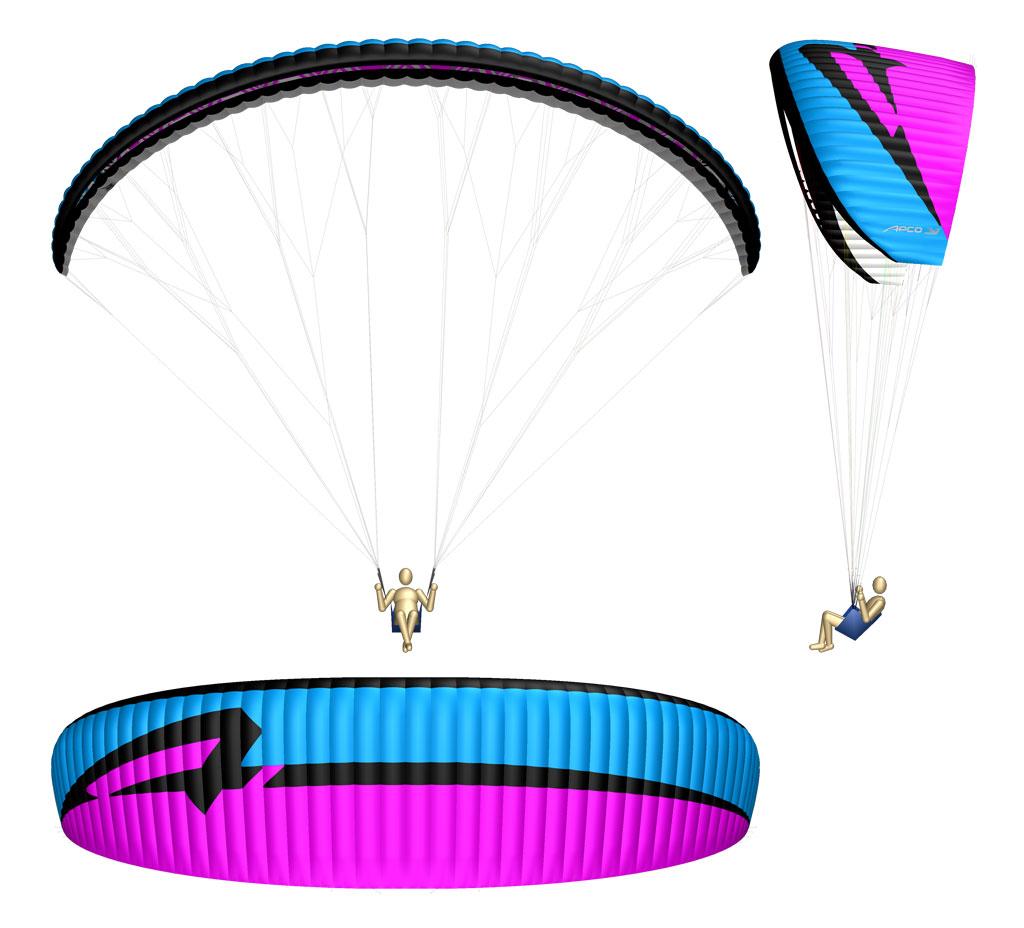 In the Box
Warranty, stickers and repair kit
Certification
Size
Certification Type
XS
EN B*
S
EN B
M
EN B
L
EN B
* Pending
Characteristics
TAKE OFF

The APP profile (shark nose) profile with lighter materials, helps this wing to have an easy balanced inflation, The wing will rise easily and controllably overhead without a tendency to overshoot or lift the pilot if checked overhead.

LANDING

Simple, predictable approach and flair to a standstill.

THERMALLING

The Vista V will easily settle in a constant angle of bank turn in a thermal, requiring very little input once centred, resulting in a superior climb rate, which will have you at the top of the gaggle in no time.

PERFORMANCE

Best Glide will be achieved at 1/3 speed bar, and the APP / sharknose profile keeps the wing highly pressurised and collapse resistant throughout the speed range.

PILOT FEEDBACK

simple to understand is how to summarise the Vista V. The wing is both reassuring and precise in its pilot feedback. It is a forgiving wing for beginners, and when directed correctly, it will immediately respond without hesitation.

CONSTRUCTION

According to Apco's legendary tradition for durability – the top surface is APCO's double siliconised cloth. Bottom surface and internal parts from lightweight materials to save weight without compromising on durability.

Vista V

Vista V is fun to fly and will even excite pilots for long cross country flights. Great and secure glider at the same time to enjoy for hours on end
Features
DSC

DSC – Double Siliconized Cloth

APP

Automatic Pressurising Profile

L/E FLEXON battens®

A system for improved launch, lighter weight, prolonged lifespan

3D Cut

Additional 3D cut on the leading edge for clean construction and improved profile definition

BBP

Air Extreme Ball bearing Pulleys ®

LDT

Low Drag Tensioners
The Sleekest Trailing Edge Tensioners available

LSR

Latest laser cutting technology.

NBM

Integral built-in neodymium brake magnets